How It Works DIY?
We Provide Better Value
DIY Heat Pumps allows you to install a heat pump without special equipment, tools or training.
Canada's Leading DIY Heat Pump Specialist.

Every home is different – how you and your family use your space will be unique to you. We will guide you through the process of choosing the right system to suit your home and budget.

We provide you with advice, support & resources that make installation easy. Our team will be on hand throughout the process to answer additional questions you may have.

Our patented technology allows you to do the installation work yourself. This can save up to 60% on the cost of your new system, because it removes the need for an HVAC engineer.
How It Works
Pre-charged Quick Connect line-sets make installation simple.

Locate
Decide where you'd like to locate your inside air handler and exterior heat pump.

Fit
Drill a 3.5" inch hole and feed the air handler line-set through the wall.

Connect
Connect the air handler to the heat pump with our quick connect technology.
What You Get
Save up to 60% on installation
Up to 70% lower energy bills
Full DIY warranty
Full technical support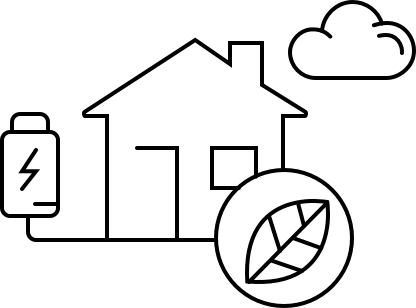 Common Questions
General
It's DIY because there's no handling of refrigerant. The patent-pending Quick-Connect lines come pre-charged and sealed from the factory with the correct amount of R-410A refrigerant. This means there's no requirement for an HVAC engineer to vacuum or pressurize the system using specialized equipment. Anyone can now install a heat pump safely, quickly and easily without special tools, equipment or training. Click here to how easy installation is.
How do you save me money?
We save you money on installation costs.
Our patented pre-charged line sets allow you to install a heat pump yourself with no special tools, equipment or knowledge.  Doing it yourself or appointing a local handyman, will cost a fraction (up to 60% less) of what an HVAC engineer will charge.
We save you money on energy costs.
Next-generation air sourced heat pumps harvest outside warmth at -30°C and save energy year-round. It is for this reason that they're 300-400% efficient. For every dollar they use to run, they can provide three to four dollars worth of energy, saving you up to 70% on your energy costs.
The system comes with a 7 year condenser and 5 year parts warranty.
Note: There's no warranty on labour as this is a DIY product.
Coldest temperature they can run?
DIY mini-split systems
run most efficiently down to around -5 degrees C. They will continue to work down to around -15 degrees C but become less efficient at extreme temperatures.
MrCool Universal Series can heat effectively below freezing. It can even heat effectively below zero and keep heating effectively down into negative double digits. It can keep a 1500 sf house at 70 degrees in -20 and below.
Yes, these are normal heat pumps – the only difference is the 3″ quick connect valve that allows the lines to be pre-charged for the do it yourself installation.
Once installed they are fully serviceable as with any heat pump and many local independent heat pump companies are happy to service them.
We have offices and warehouse facilities in Brampton Ontario, Vancouver and Victoria BC.
The internal air handlers are designed to be whisper quiet [bedroom operation].

Our DIY systems are ultra-quiet because they were 'specifically designed' for strata properties and condos and are inaudible from anywhere within the building.
The maximum sound level for the outside compressor(s) – as examples 12K and 36K are close to these min/max values:
1.18K is (58 dBA)
2. 27K is (63 dBA). 
It's rare to run at maximum because once the internal set point has been reached, the compressor will shut down. We can say with certainty that when the compressor only needs to maintain equilibrium, the noise level is considerably less – akin to a quiet whisper. 
So we could say the rated range is from a quiet whisper (30dBA) to normal conversation at 3 feet (60 dBA).
Homes are generally a set distance apart from one another. If we say 24 feet for easy math – we can apply the inverse square law as follows:
18K = dBA (58 – 18) = 40 dBA (sound of a quiet refrigerator)
27K = dBA (63 – 18) = 45 dBA (faint rainfall)
This is the noise level outside "standing outside". If an occupant was standing within the building – it would be significantly less because you'd need to account for double glazing and building insulation. This would reduce the sound level by a further 30 – 50% – making them inaudible to anyone inside the building.
This video shows one of our compressors running on maximum – this unit is the largest we sell (36K) – it is self-evident that I can easily talk over the top of it.
Electrical
What size breakers do I need?
How is the unit wired up?
The outside condenser is connected to the home's electrical panel via a 120V ( 12K single-zone only) or 220V circuit. The air handlers are connected to the condenser by a low voltage [extendable] communication cable and follow the same route as the line sets.
Pre-charged Line Sets
What's the longest line-set length?
The longest single length is 115 ft – this is made up of a combination of 16′ or 25′ line-set sections with the use of one or more couplers.
The maximum total [combined] length is 262 ft.
The maximum vertical height [not length] between the condenser and any air handler is 50 ft.
What line-set lengths are available?
Line sets come in standard 25′ lengths and are joined together using a coupler. The coupler comes with an additional 25′ – 50′ length of communication wire. This original wire is cut and extended to the length desired using standard electrical crimps.
We also have non-standard 16′ line set lengths available for purchase.
What about excess line-set length?
Pre-charged line sets come in a coil and are designed to be coiled up behind the condenser out of sight.
Delivery
In-stock items are shipped the same or the next day and typically arrive in 2 – 4 working days.
If we have to special order an item – shipping is typically 2 – 4 weeks and we aim to carry most items in stock.
Free local collection is available at any time.
Rebates
Do your products qualify for rebates?
Depending on where you live yes.
For example, if you live in BC you could get up to $11,000 for switching to an electric heat pump from a fossil fuel heating source. This includes a $3,000 rebate from BC Hydro, which is in addition to CleanBC's existing $3,000 rebate. Eligible applicants can receive a combined rebate of up to $6,000 from BC Hydro and CleanBC in one application while funding lasts. 
You may also be eligible for up to $5,000 in additional rebates from the federal government's Canada Greener Homes Grant. This is a separate program with its own eligibility criteria and application process, which requires registration and a home evaluation before making any upgrades. 
The great news is you can find our MR COOL DIY Heat pumps on the rebate-eligible heat pump list provided by BC Hydro so you're already one step closer to an efficient, rebate ready heat pump system. 
To see what you could qualify for click HERE.  
Rebate says must be professionally installed?
Rebates are subject to the "relevant trade" – our systems come with pre-charged line sets so don't require an HVAC technician to vacuum the lines and charge them with refrigerant. Similarly, we don't need a welder, gas fitter or plumber. The only relevant trade for this type of heat pump installation is a qualified electrician and you will need an electrical installation permit in order to claim your rebate. We have helped many customers successfully claim their rebates and will explain how the process works before your installation.
Orders
You can either place your order online for single-zone systems or
contact us
for pricing on multi-zone systems. Every home is different – how you and your family use your space will be unique to you. We will guide you through the process of choosing the right system to suit your home and budget. We have over a hundred different multi-zone configurations so prices depend on your home's package.

Ready to Save up to 70% on Your Energy Bill?
Clean. Simple. Affordable.
The only True DIY HVAC on the market.