It's DIY because there's no handling of refrigerant. Our patented Quick-Connect lines come pre-charged and sealed from the factory with the correct amount of R-410A refrigerant. This means there's no requirement for an HVAC engineer to vacuum or pressurize the system using specialized equipment. Anyone can now install a heat pump safely, quickly and easily without special tools, equipment or training.
Please view our short introduction videos below.
Single zones systems: Product Video
Multi zone systems: Product Video
Central systems: Product Video
Simple DIY installation: See How

View other FAQ's below:
How do you save me money?
We save you money on installation costs.
Our patented pre-charged line sets allow you to install a heat pump yourself with no special tools, equipment or knowledge.  Doing it yourself or appointing a local handyman, will cost a fraction (up to 60% less) of what an HVAC engineer will charge.
We save you money on energy costs.
Next-generation air sourced heat pumps harvest outside warmth at -30°C and save energy year-round. It is for this reason that they're 300-400% efficient. For every dollar they use to run, they can provide three to four dollars worth of energy, saving you up to 70% on your energy costs.
The system comes with a full DIY 7-year condenser and 5-year parts warranty.
Note: This warranty covers installing the unit yourself as this is a DIY product.
Coldest temperature they can run?
DIY mini-split systems
run most efficiently down to around -5 degrees C. They will continue to work down to around -15 degrees C but become less efficient at extreme temperatures – you can view the tech specs
here
.
MrCool Universal Series can heat effectively below freezing. It can even heat effectively below zero and keep heating effectively down into negative double digits. It can keep a 1500 sf house at 70 degrees in -20 and below – you can view the tech specs here.
Yes, these are normal heat pumps – the only difference is the 3″ quick connect valve that allows the lines to be pre-charged for the do it yourself installation.
Once installed they are fully serviceable as with any heat pump and many local independent heat pump companies are happy to service them.
Note: It's illegal in Canada for any HVAC company to refuse to service a competitor's products. If they do they will have committed an act of "conspiracy" and will be in breach of The Competition Act. This carries a minimum prison sentence of 14 years for anti-competitive behaviour.
What areas do you service?
We have offices and warehouse facilities in Brampton Ontario, Vancouver and Victoria BC.
As Canada's largest supplier of DIY Heat Pumps, we service the whole of the country coast to coast.
How loud do the outside condensers run?
The internal air handlers are designed to be whisper quiet [bedroom operation].
Our DIY systems are ultra-quiet because they were 'specifically designed' for strata properties and condos and are inaudible from anywhere within the building.
The maximum rated sound level for the outside compressor(s):
Single Zones (dBA)
12K (45)
18K (58)
24K (60)
36K (64)

Multi Zones (dBA)
27K (63)
36K (64)
It's rare to run at maximum because once the internal set point has been reached, the compressor will shut down. We can say with certainty that when the compressor only needs to maintain equilibrium, the noise level is considerably less – akin to a quiet whisper. 
So we could say the rated range is from a quiet whisper (30 dBA) to normal conversation at 3 feet (64 dBA).
Homes are generally a set distance apart from one another. If we say 24 feet for easy math – we can apply the inverse square law as follows:
18K = dBA (58 – 18) = 40 dBA (sound of a quiet refrigerator)
27K = dBA (63 – 18) = 45 dBA (faint rainfall)
This is the noise level outside "standing outside". If an occupant was standing within the building – it would be significantly less because you'd need to account for double glazing and building insulation. This would reduce the sound level by a further 30 – 50% – making them inaudible to anyone inside the building.
This video shows one of our compressors running on maximum – this unit is the largest we sell (36K) – it is self-evident that I can easily talk over the top of it.
How does your warranty compare to competitors?
Our systems come with a full Do It Yourself (DIY) warranty unlike many of our competitors. Our products are the only True DIY HVAC system on the market.
If you purchase an alternative system and do not have it installed by a licensed HVAC professional you may void the warranty. Some systems appear to be DIY products but when you check the small print – you'll find that they need a licenced HVAC contractor to prevent voiding the warranty – please see below.
Proper installation – Limited warranty applies only to systems that are installed by a state-certified or licensed HVAC contractor[1], under applicable local and state law in accordance with all applicable building codes and permits, Senville installation and operation instructions and good trade practices. 
Source: please click HERE
Comparing any non-DIY product that voids the warranty unless professionally installed by a certified or licensed HVAC contractor – is not the same as our tier 1 product that comes with a full DIY warranty, a high level of technical support and parts availability. Warranties and product quality protect your investment and are an important consideration when comparing products.
How Do I Get Tech Support?
Your unit comes with
a full manufacturer's warranty
& ongoing technical support.
For any issues with your order or technical problems with your unit please follow the steps below. 
STEP 1.
Please register your product with the manufacturer HERE
STEP 2.
Please review the error code documents below and run your first-line diagnostics.
Multi-Zone Error Codes  |  Single-Zone Error Codes
STEP 3.
If this does not solve your issue – please raise a technical support ticket by using the manufacturer's email contact form HERE.
Please be sure to include the information below.
Name it was

purchased

 under
Where it was purchased from
Your full address
The shipping address if different from the above
Your phone number
Your email address
Proof of

purchase

(invoice or receipt) as well as the date of

purchase)

Model number (found on the side of the unit)
Serial number (found on side of the unit)
Any error code? (pictures and videos will help if possible)
HVAC Tech's information if applicable
Once you have submitted your support request – you will be given a support request number – please save this for future reference. You may follow up by calling their tech support line on 270-366-0457 quoting this number.
STEP 4.
If you have not received a response from the manufacturer within 14 days, please feel free to contact us.
Note: you must provide us with your technical support request number before we can help you.
The process requires a little patience and confidence. It's important to remember that a full warranty covers you and that they will get to you in sequence. As much as we love to help – we do not have access to the manufacturer's systems that deal with tech support or warranty claims.
DIY Heat Pumps LTD does not provide the manufacturer's technical support or warranty.
Sometimes it's best to install less zones - why is this?
Sometimes it's best to install air handlers in just one or more open area(s) of your home.
Displacement heating is where a single, dual or tri-zone heat pump provides most of the home's heating and cooling – year-round. Energy moves by itself (hot to cold) so in some cases, you can provide up to 80% of the home's heating and cooling needs simply by leaving doors open.  There's really no need to fit an air handler in each room unless you specifically need independent temperature control.
It is equivalent to boiling warm water – very little energy is needed to bring it to a boil. Similarly, with your home's heating/cooling – other rooms are kept at a comfortable temperature by the natural movement of air (hot to cold).
The fact that your heat pump provides 80%+ of your home's heating/cooling is a huge energy saving. Sometimes it's not worth spending twice the amount for a 20% gain. If you need more information speak to us as we'd be happy to help.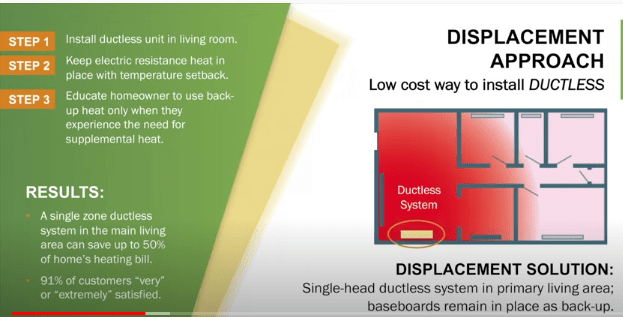 Can you recommend an installer?
Our systems are self-install systems or (DIY)
Do It Yourself
. They are incredibly simple to install as they come with pre-charged Quick Connect line sets and only require a 3.5-inch hole.
Here's what we suggest you do:
Reconsider if you can actually do it yourself – perhaps you could enlist the help of a friend, neighbour or a family member?
Try looking online or asking if anyone in your local community knows a good handyman?
Ask your local electrician if he can install the system for you. Remind him that he'll be doing the electrical work and it's not that difficult for him/her to drill a 3.5 inch hole. This is a great opportunity for them to earn an installation fee on top of any electrical work.
Consider calling up a general contractor and asking them – people like this know many tradespeople that may be able to help.
 Email these people the links below to show them just how easy it is to install one of these systems.
Our systems are 60% less cost to install than an HVAC company will charge because our pre-charged line-sets remove the expensive HVAC labour cost. The only skill needed to install one of these systems is the ability to drill a hole. If you cannot or do not want to do this – then you may need to consider paying two or three times the costs for an HVAC company to fit a non-DIY system.
Do you have a showroom and can I view your products?
We are an online retailer much like Amazon – we have warehouses but these are not open to the public.
Please look at our online reviews and videos if you'd like to see our products.